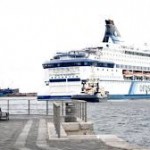 Nu flytter Oslobåden permanent om på den vestlige side af terminalbygningen, når den ligger i havn, og det betyder mindre støj for beboerne.
DFDS har tidligere lovet at flytte båden til det, der kaldes "det indre leje", men når det ikke er sket endnu, så skyldes det, at lejet først skal bygges om. Det skulle være igang netop nu, og i et brev til grundejerforeningens repræsentanter fra DFDS' vicepræsident Gert Jakobsen, fremgår det, at man forventer ombygningen gjort færdig inden 1. september.
"Herefter vil skibet kun i meget sjældne tilfælde være nødt til at benytte det ydre leje. det er, når der undtagelsesvis er to skibe i havn," skriver Get Jakobsen.
Inden for de senere år har der kun været tre tilfælde, hvor der har ligget to skibe i havn samtidig.