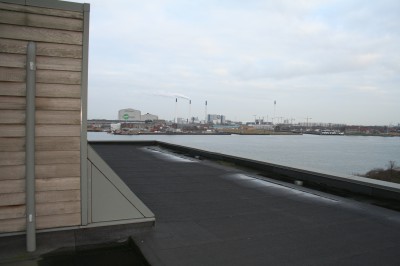 Bestyrelsen fortsætter sine bestræbelser på at sikre bygningen mod abnorme vejrsituationer. De går ud på bevidst at renovere og vedligeholde i god tid – før der opstår problemer. Taget er nu 17 år og i dårlig stand. Sidste år blev det renoveret over opgang 7 og 9 og nyt tagpap lagt på.
Nu er turen kommet til 3 og 5. Så snart vejret tillader det, går håndværkerne i gang. Hele tagfladen får ny belægning, således at problemer med vandindtrængen i lejligheder forhåbentlig definitivt er forbi. Der laves bedre fald på taget og afløbene ændres, så vand hurtigere og mere direkte ledes væk fra taget. Samtidig isoleres der under belægningen.
Udgiften på ca. 300.000 kr. er indregnet i budgettet.
Tagterrasserne berøres ikke af arbejdet i denne omgang. Men to kommende, større vedligeholdelses-projekter er netop tagdækningen under fliserne på de to fælles tagterrasser samt resten af dækket over kælderen (omkring 30 pct.).