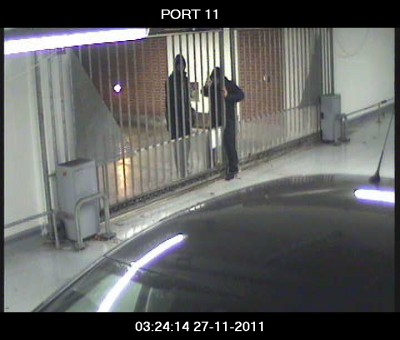 Det gik ikke helt, som to indbrudstyve havde tænkt sig, da de natten til søndag den 27- november klokken godt 3 om morgenen forsøgte at bryde porten til P-kælderen op. De hev og flåede i porten, men fik den aldrig længere op, end man ser på dette foto.
Det var ikke nok til, at nogen af dem kunne knibe sig igennem. 23 sekunder efter at overvågningskameraet registrerede denne situation, luskede de to indbrudstyve af. (foto 2).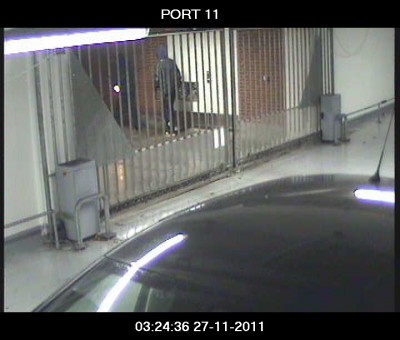 Sammenlagt varede indbrudsforsøget mellem 1,5 og 2 minutter. Flere forstærkninger, som Ejerforeningen har bekostet gennem årene, bestod dermed deres prøve. Dog – helt uskadt var porten ikke. Den ene halvdel blev løftet ud af sin bane, og da en beboer kom hjem i bil en time senere, ville denne halvdel nok gå op, men ikke lukke igen. Resultat var, at der var åben ladeport i flere timer søndag morgen. Porten er nu repareret.
Undersøgelse af ejendommens øvrige videoovervågning viste umiddelbart ikke, at personerne har forsøgt at skaffe sig adgang via andre indgange. Indbruddet er anmeldt til politiet.
Indbrudsforsøget giver Ejerforeningen anledning til endnu engang at minde om at være opmærksom på, hvem der kommer "med ind" i P-kælder og opgange. Samt ikke at lukke personer ind, som over dørtelefonen foregiver et ærinde hos andre, f.eks. med blomster.
Bestyrelsen har netop nu hele ejendommens sikkerhed oppe til vurdering, herunder sikkerheden i P-kælderen.